Date/Time
Date(s) - 11/28/2017
4:00 pm - 6:00 pm
Location
Powell Library - East Rotunda
Categories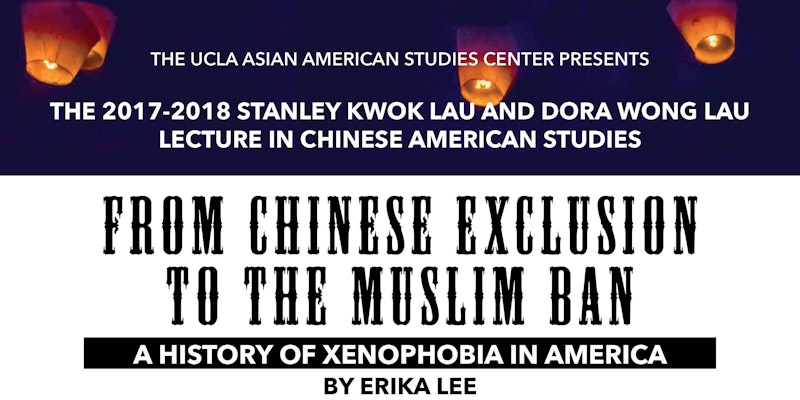 The UCLA Asian American Studies Center presents
the 2017-2018 Stanley Kwok Lau and Dora Wong Lau Lecture in Chinese American Studies
From Chinese Exclusion to the Muslim Ban:
A History of Xenophobia in America
By Erika Lee
Tuesday, November 28th, 2017
4:00pm to 6:00pm
UCLA Powell Library – East Rotunda
ERIKA LEE is Distinguished McKnight University Professor, the Rudolph J. Vecoli Chair in Immigration History, and the Director of the Immigration History Research Center at the University of Minnesota. She is the author of three award-winning books in Asian American and immigration history: At America's Gates: Chinese Immigration During the Exclusion Era, 1881-1943; Angel Island: Immigrant Gateway to America (with Judy Yung); and The Making of Asian America: A History.
Light refreshments will be served.
Sponsored by UCLA Asian American Studies Center, the Stanley Kwok Lau and Dora Wong Lau Endowment for Chinese American Studies, UCLA Library, UCLA Department of History, UCLA Center for the Study of International Migration, and the UCLA Department of Asian American Studies.
DATE AND TIME
Tue, November 28, 2017
4:00 PM – 6:00 PM PST
LOCATION
Powell Library – East Rotunda
UCLA
Los Angeles, CA 90095
Social Share